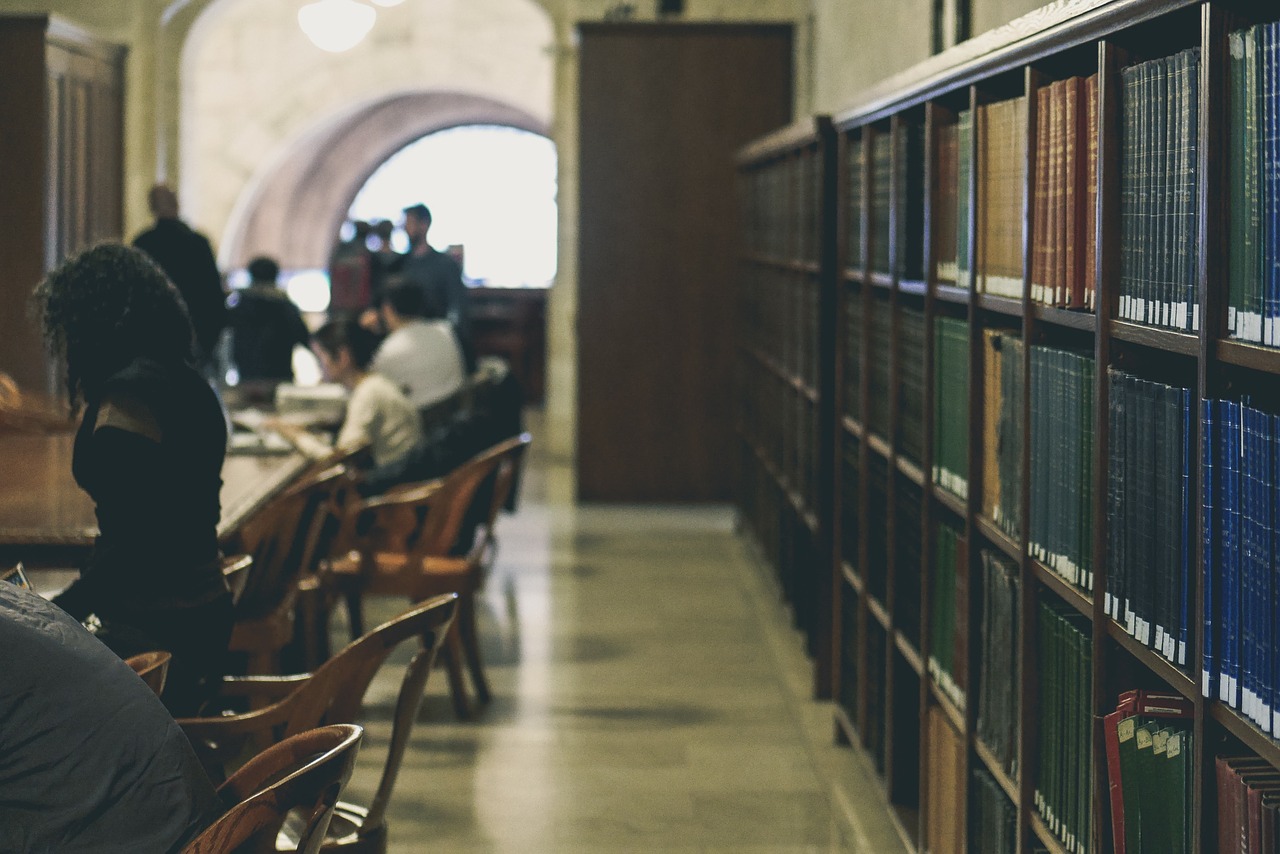 Did you know the University of Illinois at Urbana-Champaign has over 20 libraries on campus? The Main Library — while home to over 5 million books and plenty of cozy study nooks — isn't the only place to go during finals week. There's a library specific to nearly every course of study at UIUC, so you're bound to find your go-to spot to hit the books.
If you're looking for a subject-specific library, the Grainger Engineering Library or ACES Library will give you access to every resource you may need as a student. More general libraries, like the Reading Room in the Main Library or the Undergraduate Library, can provide a comfortable place to focus for a few hours. Read on to discover which UIUC library is for you.
Main Library
The Main Library at UIUC is home to the Main Stacks, which houses over 5 million books and resources. It's also home to many specialized libraries, like the Literatures and Languages Library, located in the Reading Room. It's stocked with 40 long tables and 225 small tables to settle down at and hit the books. Take time to admire the windows in the Reading Room and the grand staircase. They feature 27 tinted stained glass designs of Renaissance printers' trademarks. It's located on Gregory Drive, and the Reading Room is on the second floor. The Main Library is also where you'll find Information Services. Go here to take part in a Savvy Researchers Workshop, or have a little fun and take a tour or indulge in a geocache hunt.
Funk Library
If you're a biology major, the ACES (Funk) Library is the place to be. This library is stocked with resources related to the College of Agricultural, Consumer and Environmental Sciences (ACES), including biology, city planning, and landscape architecture. It's home to six study rooms, which can easily be reserved online for up to two hours, up to 14 days in advance. Fun fact: The library was named after Isaac Funk, an early Illinois pioneer who built an agricultural and livestock empire in the late 1800s. The Funk family gifted a donation to the school, which was used to build the library. You'll find it at 1101 S. Goodwin Ave., just east of the South Quad.
Find a lil green in that urban sprawl with the #BookoftheWeek "Vertical Gardens," which "features the most exciting projects from around the world, illustrated with full color photographs, plans and in-depth explanations from the architects." https://t.co/jqJeGopUXy pic.twitter.com/KNgLoIJ5W1

— Funk ACES Library (@FunkACESLibrary) March 18, 2018
Undergraduate Library
The Undergraduate Library is your on-campus, one-stop shop for academic support specific to undergrads. The UGL is the proud place for undergrads to study, socialize, and take full advantage of their time at UIUC. It's home to more than 10 group study rooms, some stocked with whiteboards and screens with laptop hookups. The lower level has quiet study rooms that are equipped with rocking chairs, stretching balls, and white noise machines, and are designed for students who need time to de-stress and regroup. The library also offers tranquility kits, like fidget toys and noise-canceling headphones, at the circulation desk.
Grainger Engineering Library
UIUC's Grainger Library is the dedicated engineering library on campus. Besides its abundant print and online resources, Grainger Library has over 1,400 engineering workstations computer labs. They're also the home of the IDEA Lab, which has a virtual reality lounge, a 3D printing lab, and study rooms specifically equipped for engineering projects. With 14 study rooms, Grainger Library is the place to bunker down during final weeks. Reserve one of the CARE group study rooms, only available to students of the College of Engineering.
Social Sciences, Health, and Education Library
The SSHEL maintains a vast, subject-specific collection for students enrolled in schools and departments like the School of Labor and Employment Relations, Gender & Women's Studies, and the College of Education. To make full use of the library, sit down for a group instruction session. Librarians will walk you through an overview of the library and its resources, how to use their databases, and techniques for securing tests and mental measurement tools. They also have two study rooms available for reservation.
Communications Library
The UIUC Communications Library is a haven for students studying subjects like broadcast journalism, public relations, radio, and television. You can search through incredible databases of print newspapers, scholarly articles, and film/cinema studies. You'll also find full access to publications like the Chicago Tribune, Harper's Bazaar, The New York Times, and the Wall Street Journal. Find them at 112 Gregory Hall at 810 S. Wright St.