Students, the 2017-2018 academic year is here at the University of Illinois.
Grab our handy infographic below for an easy way to keep track of your classes, final exams, breaks and holidays, and other important UIUC academic dates.
This includes fall and spring semesters, along with summer sessions. Orange items are important academic dates, and blue items are no class days!
Enjoy and hit the share button to coordinate your calendar with your friends!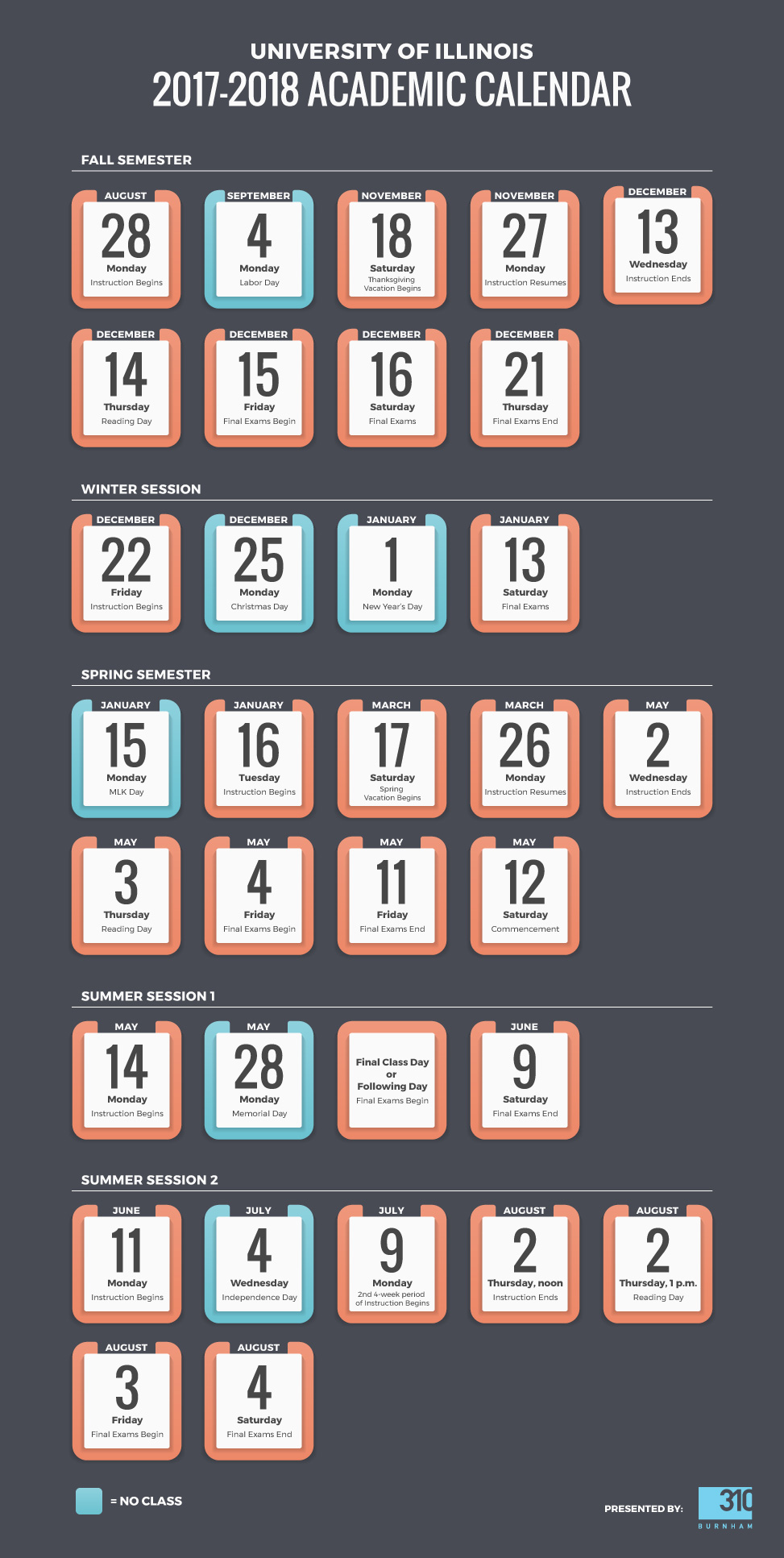 Fall Semester 2017
| | |
| --- | --- |
| Instruction Begins | Monday, August 28 |
| Labor Day | Monday, September 4 (no classes) |
| Thanksgiving Vacation Begins | Saturday, November 18, 1 p.m. |
| Instruction Resumes | Monday, November 27, 7 a.m. |
| Instruction Ends | Wednesday, December 13 |
| Reading Day | Thursday, December 14 |
| Final Exams Begin | Friday, December 15 |
| Final Exams | Saturday, December 16 |
| Final Exams End | Thursday, December 21 |
Winter Session 2017-2018
| | |
| --- | --- |
| Instruction Begins | Friday, December 22 |
| Christmas Day | Monday, December 25 (no classes) |
| New Year's Day | Monday, January 1 (no classes) |
| Final Exams | Saturday, January 13 |
Spring Semester 2018
| | |
| --- | --- |
| MLK Day | Monday, January 15 (no classes) |
| Instruction Begins | Tuesday, January 16 |
| Spring Vacation Begins | Saturday, March 17, 1 p.m. |
| Instruction Resumes | Monday, March 26, 7 a.m. |
| Instruction Ends | Wednesday, May 2 |
| Reading Day | Thursday, May 3 |
| Final Exams Begin | Friday, May 4 |
| Final Exams End | Friday, May 11 |
| Commencement | Saturday, May 12 |
Summer Sessions 2018
SUMMER SESSION 1
| | |
| --- | --- |
| Instruction begins               | Monday, May 14 |
| Memorial Day | Monday, May 28 (no classes) |
| Final Exams Begin | Final class day or following day |
| Final Exams End | Saturday, June 9 |
SUMMER SESSION 2
| | |
| --- | --- |
| Instruction Begins | Monday, June 11 |
| Independence Day | Wednesday, July 4 (no classes) |
| 2nd 4-Week Period of Instruction Begins | Monday, July 9 |
| Instruction Ends | Thursday, August 2, noon |
| Reading Day | Thursday, August 2, 1 pm |
| Final Exams Begin | Friday, August 3 |
| Final Exams End | Saturday, August 4 |