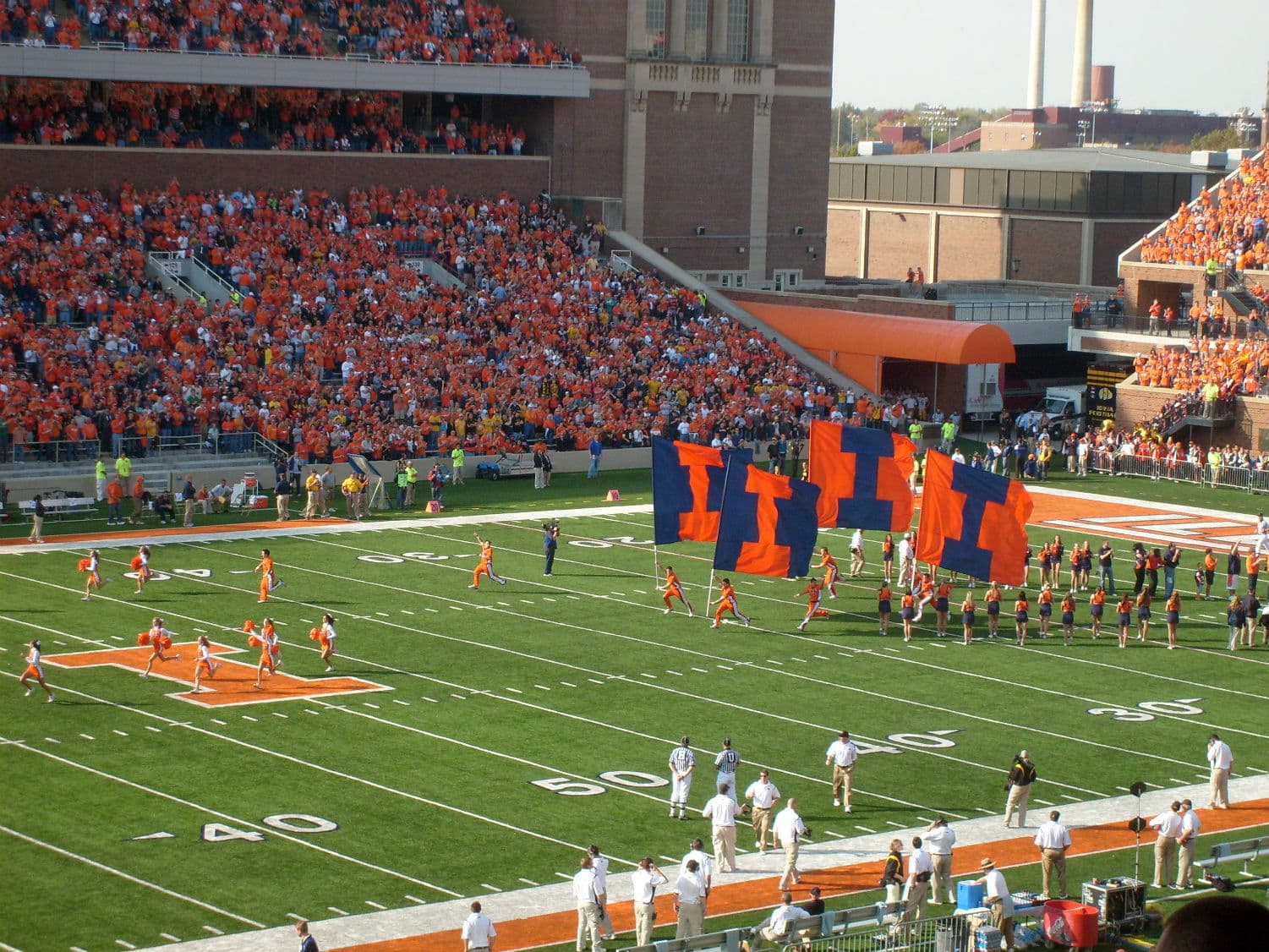 Champaign is known for being home to the University of Illinois, beautiful parks, and other culture filled attractions. Filled with many local restaurants and bars that support the farm-to-table trend, what's not to love around this town? We know it can be a bit challenging to decide what you'll be doing on your next day out in Champaign. That's why we at Burnham 310 made the following list of fun things to do in Champaign. You won't have to worry about being bored at home when there's plenty of exciting experiences around Champaign waiting to be discovered.
Location: Champaign, IL
First on our list of fun things to do in Champaign is touring the University of Illinois. The University is surrounded in buildings, trees, and other attractions full of culture and rich history. The institution is widely known for its leadership expertise in learning, discovery, engagement and economic development. A tour around the campus will allow you to learn a bit more of the history behind each building. You'll also be able to see important buildings like the Ice Arena, Illini Grove, and the libraries on campus. Visiting the University of Illinois will also help you learn more about the innovative atmosphere and vibrant student life on campus.
Location: 2001 S Lincoln Ave, Urbana, IL 61802
Primarily used for the conservation and research of local plant life in the state, the University of Illinois Arboretum offers multiple themed gardens open to the public. You can take a nice romantic walk around the Ponds or discover the beauty behind the Hartley garden. The arboretum also consists of the Noel, Cherry Tree, Kari Walkway, Oak Grove, Idea, and Hasta Society gardens. Whether you just want to visit one or all of the gardens, you're bound to run into relaxing spots full of delightful colors and setups worthy of a picture.
Location: 1402 S 1st St, Champaign, IL 61820
There's no better way to experience a fun college night than cheering on your favorite team. The whole town dresses in blue and orange to show its support and mentally prepare themselves to cheer theChiefss on until the end. Just imagine how packed Memorial Stadium and the State Farm Center get and the contagious excitement that takes over the environment. All of the sports facilities at the University of Illinois are prepared to receive thousands of fans full of school spirit and in search of the win. It is extremely easy to get caught up in the great college atmosphere and enjoy the performances of the cheer squads, band, and other spirit teams.
Location: 206 W Park St, Urbana, IL 61801
Crystal Lake Park features a beautiful green forest, labyrinth, fishing, and other important amenities. The park is also home to the Busey Woods and Crystal Lake Park Family Aquatic Center. Crystal Lake Park also hosts plenty of special events and recreational camps throughout the year that help make a visit to this park even more interesting.
Location: 2400 W Bradley Ave, Champaign, IL 61821
The Staerkel Planetarium is the second largest planetarium in the state with a state of the art dome to witness the stellar light show. The planetarium is amongst the most educating fun things to do in Champaign thanks to the great programs and presentations that help explain some of the universe's biggest mysteries. The planetarium is also a popular spot for local field trips and other interactive events.
Location: 2310 S Rising Rd, Champaign, IL 61822
Robert Porter Family Park is the perfect destination if you're looking to take a break from the city scene and enjoy nature. This city project aims to preserve and share the beauty behind the once neglected wildlife in Illinois. Porter Park is home to a restored prairie that brings out the hidden beauty of the park through trees, a walking trail, a small shelter, a pond, and native plants.
Location: 400 W University Ave, Champaign, IL 61820
An urbanly distinct park that features the town's most anticipated community events. From lovely fountains and interesting art around the grounds, this fun Champaign destination has the perfect environment to enjoy a stroll or run around the park. You can also take advantage of the open lawn space to fly a kite on a nice windy day or play some catch with your family and friends. There's also a fun playground with vibrant colors that will have your children entertained for a good hour.
Location: 500 E Peabody Dr, Champaign, IL 61820
The Krannert Art Museum aims to connect people and the arts through rich collections from all over the globe. It features collections that were created by those who currently teach at the School of Art + Design as well as other seasonal exhibits. The museum is also home to some historic collections that date back up to 4,000 B.C., representing various cultures of the world. Amongst of the cultures featured you will find Greek, Roman, Asian, Native American, and other preserved cultures with great ties in history. You can enjoy a guided tour or adventure by yourself at this great museum.
Location: 1501 North Mattis Avenue, Champaign, IL 61821
Located in the northwestern part of Champaign, Dodds Park offers a fun solution to your outdoor needs. This great park includes 12 soccer fields, 7 baseball fields, disc golf course, and a garden plot. It is a modern community facility where you can enjoy some recreational sports on game days or relieve some stress by enjoying the park's amenities. Another fun things to do in Champaign is checking out the Tribute to Olympic Athletes monument. The monument is a dedication to the athletes that have represented Champaign County in the Olympics.
Location: 2702 W Springfield Ave, Champaign, IL 61822
Whether it's during the summer or winter, Kaufman Lake offers plenty of fun things to do in Champaign. It lake features fishing, duck feeding, beautiful flower gardens, and great outdoor trails for the public to enjoy. Kaufman Lake also features cross country skiing and hayrack rides during the winter, and water activities during the summer season. It's a nice spot to enjoy a day full of outdoor recreation with your family and other small groups.
Location: 32 E Chester St, Champaign, IL 61820
Seven Saints is an American tavern that serves up some of the most creative burgers, craft beers, amazing cocktails and wine. It's a great local business with an cozy environment and yummy appetizers. You can enjoy some sliders with a drink or order a large meal to complement your choice of alcohol. Seven Saints also has a unique interior design plenty of good music playing in the background.
Location: 1407 N Prospect Ave, Champaign, IL 61820
Dos Reales is one of the few Hispanic businesses in Champaign that serves up some large portions of goodness. Just do yourself a favor and order any of the dishes that include cheese-covered steak or chicken. The restaurant also serves some unique cocktails and vibrant margaritas to spice up your night.
Location: 1115 Windsor Rd, Champaign, IL 61821
Trying out one of the many wines at Sun Singer is one of those things every adult has to do in Champaign. Sun Singer boasts of a large collection of fine wines, beer, and spirits that help provide Champaign with some of the best restaurant services. This one stop restaurant is a relaxing place where you can enjoy a tasty dish along with your choice of fine drinks to chase it all down. This spot also offers wine tasting and other special events for the public as well as the opportunity to reserve the venue for private occasions.